"What interests me in the cinema is abstraction" – Orson Welles
The famous essay "The birth of a new avant-garde: La caméra stylo" (1948) by Alexandre Astruc prophesies how film will slowly free itself "from the immediate and concrete demands of the narrative, to become a means of writing just as flexible and subtle as written language".
The comparison is fitting when this anthology of six short films is used as proof. Every film forms its own handwriting and wields its own proper tools, which range from pencil to permanent marker. In experimental film, style is free: written by hand, by typewriter or transcribed by an algorithm.
Curated by Mika Taanila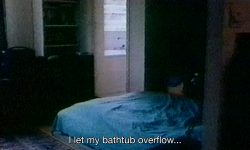 Chantal Akerman: Le jour où… [The Day When], 1997, Switzerland, 7 min, 35 mm
Akerman's (a guest at MSFF in 1991) film is based on repetition and rotation. The director reads a script for the camera in her home, recounting troublesome incidents on a day she thought about the future of film.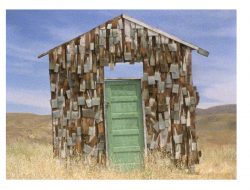 Inger Lise Hansen: Hus [House], 1998, Norway, 8 min, 16 mm
Time works its magic while a wooden shack is taken apart in jubilant atmosphere. The camera takes note of the happening.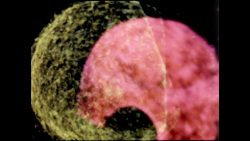 Manuela de Laborde: Ficciones [Fictions], 2021, Mexiko/Germany/Canada, 20 min, 16 mm
The director Laborde created ceramic sculptures and grew moss on them for a year. According to her: "Ficciones is a spell that conjures representations as if imagined from the perspective of the plant world, that which invents prior to consciousness, as a thinking before thinking." The fantastic soundtrack was composed by the director's little sister Camila de Laborde.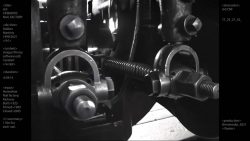 Dalibor Martinis: N-ta kinematska tvornica čavala [Nth Cinematic Nail Factory], 2022, Croatia, 7 min, DCP
Between 1925 and 2005 The Mustad factory in Karlovac produced nails that were used in shoeing horses, donkeys, and camels. The director filmed the material in 1999. Every showing of the film is unique, as the algorithm rearranges the 99 frames into a new order.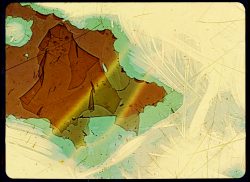 Milja Viita: Bambi, 2022, Finland/Canada, 10 min, 35 mm
A materialistic close reading of a classic animation and its autopsy in one fell swoop. The film dives through the surface of film emulsion and projects on the screen the cosmic proportions of the celluloid.
Peter Tscherkassky: Train Again, 2021, Austria, 20 min, 35 mm
An arrival of a train, X-ray, and breakdown. Pan-cinematic-express-roundtrip to the nether. Railroad blocks as film screens. "Once you step aboard a train, thoughts themselves travel across distances, literally, and one does not quite grasp it." (Antti Hyry)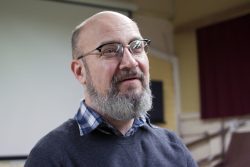 Mika Taanila (b. 1965), a director and a visual artist regular MSFF visitors are certainly familiar with, cannot be shut into cells or categories because the wild range of his original observations is so wide. In his works Taanila takes a close look at technological utopias and visions of the future with the methods of documentary film, video art, avantgarde and stock footage, carries out a kind of media archaeology and repeatedly questions the limits of our sense perceptions. The depths and the secrets of shapes and surfaces receive a new form from Taanila, concreteness and matter bow down towards abstract, chaotic turns into comical, threat vents into laughter and vice versa.
The traditional form of film is for Taanila, who has been awarded with the biggest acknowledgements for artists in Finland including the Ars Fennica in 2015 and is internationally one of the most respected Finnish modern artists, just one of the many starting points for expression. In the 1990s he directed music videos for Kauko Röyhkä, 22-Pistepirkko and Circle and his film and video installations have been displayed in galleries and art museums across the world. Key works also include Futuro – A New Stance for Tomorrow (1998), The Future Is Not What Is Used To Be (2002), Optical Sound (2005), Return of the Atom (2015) and Tectonic Plate (2016).
At the core of Taanila's production, which dances in the interface of reality and fantasy and questions the relativity and the direction of movement of time, the relationship between humans and machines and the vulnerability of technology is repeatedly brought up. (Lauri Timonen)