Erik Blomberg's magical White Reindeer (1952) will be taking over Saint Petersburg and Tokyo as part of Finland 100 Years – Through The Eyes of Cinema series. Saint Petersburg's Finnish Film Week screens the film with brand new Russian subtitles and in Tokyo this Cannes awarded mystery is part of the "Aki Kaurismäki Carte Blanche".
Saint Petersburg's Finnish Film Week has traditionally screened new Finnish box office hits, but this year the audience is in for a treat! Erik Blomberg's mysterious gem The White Reindeer has got a brand new Russian translation and it will premiere as part of the Finnish Film Week starting from the 24th November. The White Reindeer is a Golden Globe awarded Cannes winner and one of the best known Finnish films. It tells the story of a young woman living in Finnish Lapland, surrounded by the snowy mountains – and her own loneliness as her husband travels for work. This movie is an irresistible combination of shamanistic mystery and beautiful black and white cinematography in a striking landscape. After St Petersburg The White Reindeer will be charming people around Russia as it will be seen in special screenings around the country.
Finnish centenaries are not only celebrated in Europe but also all the way in Japan! Aki Kaurismäki has hand picked six films that will be screened in Tokyo Eurospace under a title "Aki Kaurismäki Carte Blanche". In addition to White Reindeer the selection includes Valentin Vaala's poetic People in the Summer Night (1948), Mikko Niskanen's deeply moving The Boys (1962), Risto Jarva's Workman's Diary (1967), melancolic ode to love Räpsy & Dolly (1990) by Matti Ijäs and Zaida Bergroth's ravishing Last Cowboy Standing (2009).
Tokyo, Eurospace (From the 26th November to 1st December).
28th Finnish Film Week in Saint Petersburg (from the 24th to 30th November).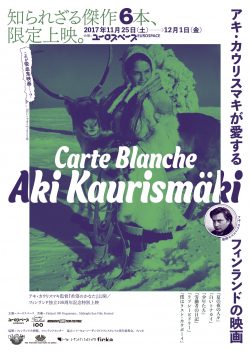 The flyer for Tokyo: we don't understand a word but it looks absolutely amazing!